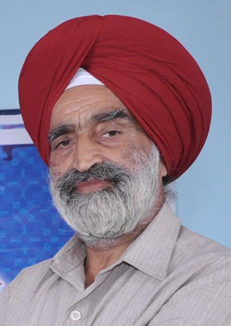 Dr. Ajmer Singh, Dy.Dir.(Retd.)
PRESIDENT

From President's Desk
It is a great privilege to announce the launching of our new website, designed with fresh look and user friendly navigational tools, updated with the latest information about our activities, programmes and other necessary developments that have happened or are expected to happen, as if scheduled. We hope you will enjoy this new website. If you have any questions, comments or suggestions, feel free to reach us n an appropriate way after exploring the website.
After months of brainstorming and sheer hardwork we are launching the website with wonderful user friendly features. Our website includes a section of some of the frequently asked questions, regarding, vision, history, life members, trustees, donors and managing committee of Saini Bhawan Ropar. Beside this downloading feature, it will also provide an access to every reader to get documents & forms, Saini Sansar Magazine & Matrimonial information available online.
We Believe the efforts executed to make a better and a transparent bond between us through this site will be highly appreciated by you all.
With best regards and good wishes.
Yours sincerely
(Dr. Ajmer Singh)
President