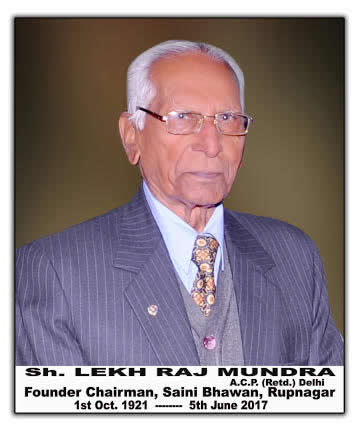 Founder Chairman Profile
A Great Philanthropist - Mr. Lekh Raj Mundra
"A Journey through Time"
:- S. Balbir Singh, Secretary, Saini Bhawan.


A void was created when an exceptional and excellent personality, Sh. Lekh Raj Mundra, left for his heavenly abode at 12:30 hrs. on 5th June, 2017.
Sh. L.R.Mundra was born on 1st Oct.,1921. His father, Ch. Munshi Ram, served the Indian Railways as Station Master. Sh. Mundra led an eventful life as an young man. After completing his graduation from Delhi university, he joined the Royal Indian A.S.C. as Viceroy's commissioned officer on 26th June, 1941 and was discharged from service on 3rd May.1947 as the 2nd World War came to an end. During W.W.II, he served in the Middle East (U.A.R. & Libya desert) with the 8th Army. The war exposure abroad at that young age must have added some positive qualities in his personality.
After his release from Army, he joined the Delhi police on 03-11-1948 as Sub- Inspector and worked in various capacities during his service period. He led Delhi Police as Parade Commander on Republic Day in 1967 and again in 1968. He served on personal security staff of three Prime Ministers, i.e., Pt. Jawahar Lal Nehru. Sh. Lal Bahadur Shashtri and Smt. Indira Gandhi. He was specially selected as personal security officer to President of India, Sh. N. Sanjeeva Reddy. Deployment at such sensitive positions depends upon individual's honesty & integrity of character.
After retirement from Delhi Police on 31st Oct., 1979 as A.C.P., he preferred to settle among his dear and near ones at his native place, Haveli Kalan. He joined the Rotary Club and served as its President. He was also a member of Retired Gazetted Officers' Association of Delhi police & member of Punjab Police Pensioners' Welfare Association RupnagarDistt.
Mr. Mundra joined the Managing Committee of Kaka Ram Saini Charitable Trust in 1982 and was appointed its Trustee in 1994 by the sole surviving Trustee, Ch. Megh Raj Saini. Ch. Megh Raj Saini, Advocate, being a very busy lawyer had entrusted the management of the Trust's donated land to the Managing body of Kaka Ram Saini Charitable Trust, headed by Sh. L.R.Mundra, who with the consent and approval of Ch. Megh Raj Saini and with the aid of donations from members of Saini Bradri (Community) raised on the said land a double storey building complex known as 'Saini Bhavan' Ropar. Prior to this, with the active participation of S. Hazura Singh ,Advocate, the foundation stone for the Bhavan was laid on 28-03-1971 by S.Gurmit Singh, Minister of State (Punjab) but the Managing body led by Sh. L.R.Mundra completed the task of raising the structure in a record time. Mr. Mundra fared well as a team leader in accomplishing the task while facing the hindrances and solving them well in time. Kaka Ram Saini Charitable Trust Saini Bhavan Ropar was registered under Socities Registration act on 24 Aug., (2007-2008).
In this complex, the managing body of Saini Bhavan Ropar has been successfully running a Saini Tailoring & Embroidery School, Beautician Art Centre and Fashion Designing Centre to impart skill to the underprivileged populace of our area enabling them to choose a career/vocation when in need. Saini Bhavan also conducts multifarious activities such as tackling the social and economic problems of the Saini community with a well-equipped office in the said building. The Trust helps the poor/destitute in extending relief in crisis and calamities. At times, for the benefit of our students, we invite experts from industry to run short courses for small scale trades.
Sh.L.R.Mundra also founded the Saini Charitable Education Trust to help the brilliant and needy students of our area. Education Trust has got an independent legal entity though its office is also located in Saini Bhavan complex and its funds are also managed by the staff of Saini Bhavan Ropar. Education Trust, apart from disbursing scholarship, also runs a Computer Training Centre which is housed in a well- established air-conditioned class room. Sh. L.R.Mundra donated Rs.71 lakh to the Education Trust as he believed that the education is the most important tool to acquire knowledge which in turn leads to progress & prosperity. Sh. L.R.Mundra was the Chairman of Saini Bhavan Ropar and also of Education Trust. Saini Charitable Education Trust was registered under Societies Registration act on 04-08-2004.
Saraswati Devi Mundra Charitable Trust (ApnaGhar) was founded by Sh. L.R.Mundra in November, 2006 in the memory of his deceased wife. He donated his built up house for the said Trust and added more rooms to accommodate the helpless old age people deserted by their children or there may be cases where senior citizens prefer to stay in old age home of their own choice. The Trust provides lodging/ boarding facilities to the inmates.
Mr. L.R.Mundra was a philanthropist and a social worker who devoted his years after retirement for the welfare & wellbeing of society. He helped the institutions and the people irrespective of their cast & creed and did not differentiate because of faith, religion, etc. He was akaramyogi& a kind person and remained helpful to the needy to last breath of his life.
Honours & Awards: During W.W.II, Sh. L.R,Mundra was awarded North Africa Star, War Medal and 1939-45 Medal. He was also awarded the Republic Day police Medal and Indo-Pak War Medal during his service career in Delhi Police. Capt. Amrinder Singh, Chief Minister Punjab, commended & honoured him on 26th January,2004 for the outstanding social activities.